Home
>
Products
>
Carton Sealer
> Automatic corner and side sealing machine
Automatic corner and side sealing machine
GPH-50
The automatic corner sealing machine GPH-50 which is suitable for all types of cartons, after being sealed in the first half(upper cover), the carton is pushed by the L-shaped corner to seal the four corners. There is no need to manually adjust the size of the carton when the carton size changes, because the electric eye will automatically sense the carton, and then the cylinder can automatically move to adjust the carton size intelligently. The carton is driven by the upper and lower belts. It is fast and stable when sealing, and has no folds at the four corners.
Packing Size
L320-500mm×W200-500mm×H180-500mm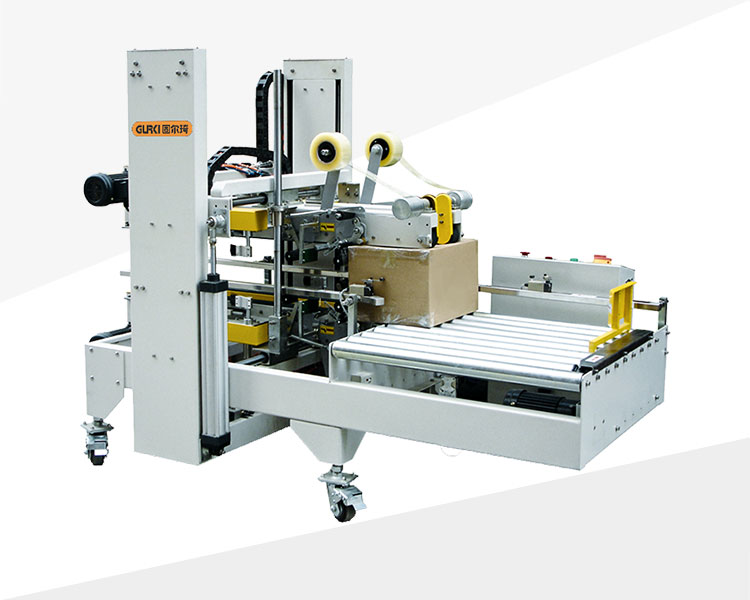 FEATURES
The sealing machine is designed to be simple in operation, economical and durable, safe, and low in failure rate. It intelligently adjusts the width and height of the machine according to the specifications of the carton. It is suitable for the same type of carton sealing at the same time.
After the carton passes through the upper and lower sealing, it then enters the 90 degree corner mechanism. When the photoelectric detection detects the carton, the machine can automatically adjust the width and height according to the carton specification.
The four corners and sides of the carton are automatically sealed and smoothed at the same time. No need to manually adjust the machine, simple, convenient and fast. The sealing effect is smooth, standardized and beautiful
Using this sealing machine instead of labor can not only improve production efficiency (increased by 30%), but also reduce costs and reduce 2 to 3 packers. This has standardized packaging and saved consumables (saving 5-10% of consumables).
This machine adopts PLC control, the operation is more simple, the performance is more stable, and the applicability is strong. It can be combined with GPA, GPB and GPC models to complete the "H" type sealing.
SPECIFICATIONS
| MODEL | GPH-50 |
| --- | --- |
| Packing speed | 300-360Pcs/h |
| Carton Size | L320-600mm×W200-500mm×H180-500mm |
| Power Supply | 110/220V 50/60Hz 1Phase |
| Power | 1050W |
| Adhesive Tape Width | 48/60/75mm |
| Air Consumption | 400NL/min |
| Air Compressing | 0.6Mpa |
| Table Height | 600+50mm |
| Machine Dimension | L2100×W1300×H1580mm |
| Machine Weight | 450KG |
PACKAGE EFFECT
The GURKI Advantage

Request a Quote? or just have a Question?