Home
>
Products
>
Mask machine
> Face Mask Packaging Machine
Face Mask Packaging Machine
GP-180
KN95 mask packing machine is Gurki independent production design of a dedicated to kind of mask pack, servo control, length of bag set and cut, One-step setting,Save time and film, easy operate, packing speed 30-100 Pkg/min, for Disposable surgical mask, can pack 1 piece, 5 pieces, 10 pieces, 20 pieces, and KN95, Multiple packing methods,Suitable for batch mask packaging production.
Packaging Speed
30-100pcs/min
Applicability
Mask,KN95,N95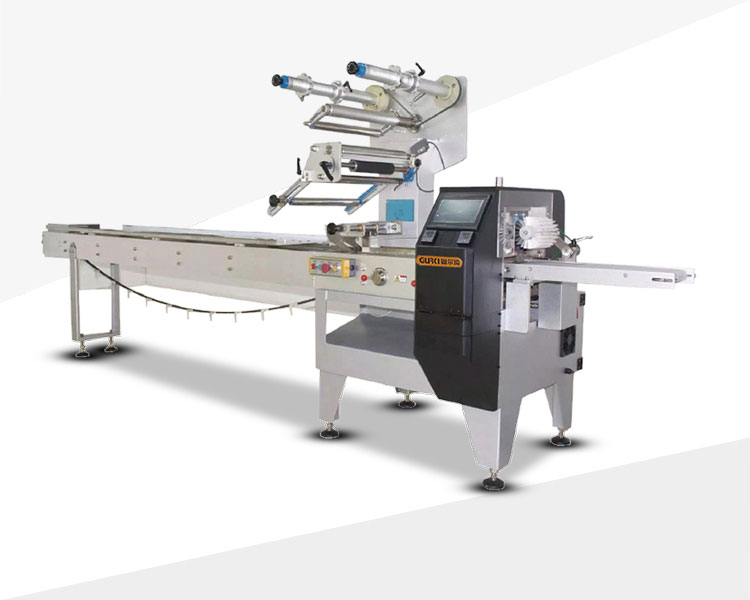 FEATURES
Ultra wide packaging range: Either color code tracking or fixed length mode, Suitable for package length range 60-600mm, length range can customized made;
Shaft-less transmission technology: Adopted among the three shafts. There is no mechanical connection. Each shaft is directly driven by a servo motor with a deceleration mechanism;
Automatic variable speed cutter: The cutter variable speed operation, speed curve automatic generation, no manual adjustment, save the mechanical CAM;
Faster packaging speed: in color tracking mode, the packaging speed is 100 packs/min (double cut);
High precision of color code tracking: Tracking accuracy up to 0.1mm;
Precise air defense package: No matter whether the material supply is continuous or not, in any case, the system can automatically and accurately ensure that each packaging film has materials, to prevent the occurrence of empty bags, to achieve zero loss of packaging materials;
Material deviation does not cut: If it is found that the material has shifted on the film, the cutter will stop. After material discharge, the cutter will automatically resume operation;
Automatic film technology: Built-in automatic film function without stopping;
Cutter torque protection: The system automatically detects the force of the cutter. When the cutter encounters a hard object, the resistance is greater than the set torque protection value. It stops and retreats instantly, in screen can set.
SPECIFICATIONS
| MODEL | GP-180 |
| --- | --- |
| Film Width | 90-400mm |
| Bag Length | 60-500mm |
| Bag Width | 35-160mm |
| Product Height | 5-60mm |
| Packaging Speed | 30-100pcs/min |
| Packaging Material | PP/PE/PVC/PS/EVA/PET/PVDC+PVC |
| Power | 220V 50Hz 5KW |
| Main Power | 1.55KW |
| Heating Power | 2.1KW |
| Machine Size | Main body:1730*930*1370mm (Totally 4meter long) |
| Machine Weight | 400kg |
| Noise | <75dB |
| Sealing Pressure | 15N/mm2 |
The GURKI Advantage

Request a Quote? or just have a Question?