Home
>
Products
>
Mask machine
> Fully Automatic Disposable Face Mask Production Line
Fully Automatic Disposable Face Mask Production Line
GP-90L
Full-automatic plane mask machine one tow one, one tow two production lines, by the mask body machine, ear belt welding machine, the splitter (one tow two use).This production line realizes the full automatic production of plane mask, mainly including the technologies of coil material feeding, folding and pressing, nose bridge and rib feeding, mask shaping, mask cutting, ear strap material and welding, and finished product blanking, etc., to complete the whole production process from raw material to finished mask.1~4 layers of PP spunbonded non-woven activated carbon and filtration materials can be used. According to the different raw materials used, it can meet different standards such as N95 standard, FFP2 standard and so on.The masks are comfortable to wear and have no pressure. The filtering effect of masks is good. They can be used in health care, electronics, mining, construction and other industries.
Production efficiency
90pcs/min
Applicability
Disposable Mask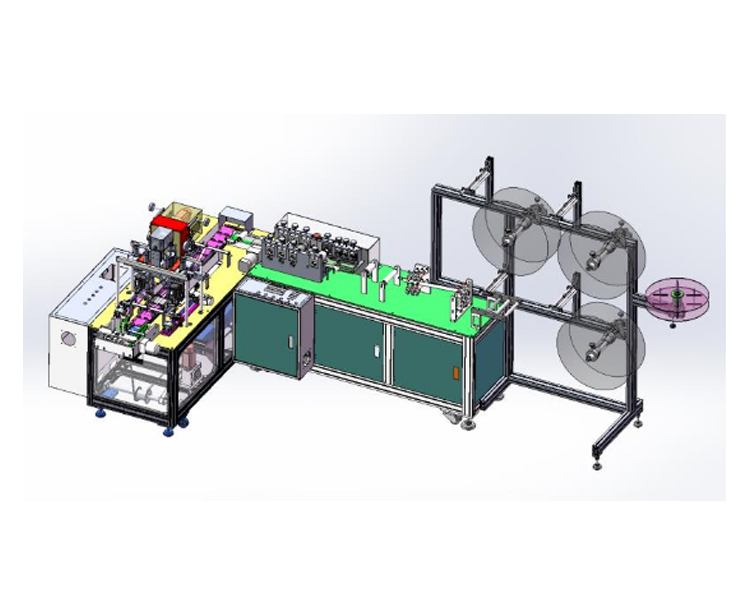 FEATURES
automatic production, ultrasonic welding, according to customer requirements to achieve multi-function all-in-one machine, automatic collection of finished products, with high precision;High output;Advantages of strong stability
the use of photoelectric detection of the negative feedback system, high reliability, low failure rate (the system monitors the real-time operation of materials, when the abnormal situation such as broken material, automatically stop and alarm, to avoid the resulting defective or equipment no-load;If the single lug welding machine is abnormal, the main machine, the splitter and the other welding machine will be automatically converted to the production mode of one lug and one lug, and the whole machine will not stop.
With automatic counting function, the output is clear and intuitive
small size, small occupation, the whole machine adopts aluminum alloy structure, beautiful solid not easy deformation, rust
PLC program control, automatic error correction system, and record historical problems, intelligent data collection feedback, so as to reduce the difficulty of operation
SPECIFICATIONS
| MODEL | GP-90L |
| --- | --- |
| Equipment size | 5000(L)*2500(W)*1500(H)mm |
| Equipment weight | 800KG |
| Mask size | Specification 17.5 * 9.5cm (adult) can change tray to adapt to 17.5 * 9.0CM. |
| Air Compressor/Consumption | 3Kg 10NL/min |
| Power supply | 220V/50/60Hz 13KW |
| Production efficiency | 90pcs/min |
| Operating environment | temperature 10-35 ℃, humidity 5-35%HR, no combustible or corrosive gases, no dust (cleanliness not less than 100,000) |
The GURKI Advantage

Request a Quote? or just have a Question?